A recent survey indicated employees who receive poor job training leave their Organization within the first year. The lack of training and development skills is one of the principal reason for moving on. Training and Development activities make employee's feel valued, give them the skills they need to do their work well, help people take more responsibility for themselves for getting better results.
The role of Training & Development in a dynamic business environment is to align to the business lines and help them achieve their objectives, by ensuring employee's skills, abilities and knowledge levels are being regularly updated. It is the employee performance that then drives organizational performance, so more effective the Training and development the higher the employee performance and the better organizational performance leading to increased business performance outcomes.
Management plays a key role in the training and development for their employee's by evaluating available training and development activities in respect of business and individual needs, and encourage them to attend a training program. Employee should personally commit to their own growth by putting an effort in learning, practicing and mastering the skills and knowledge 'during' and 'after' the training and development activities.
TRAINING & DEVELOPMENT PROCESS
Analysis and Plan
– Assessment of Needs, it could be at the job, the individual and organizational level by determining competency or skills gaps. Next is to design Training Plan that could be Internal or External depending on the identification of assessment needs.
Training and Development
– There are several common Training methods which are proven highly effective. Good Training and development programs blend together several of those methods.
Evaluation
- It involves analyzing whether training has been effective in achieving the objective (bridging the competency gap or developing new skills etc.). The evaluation is made based on employee reaction to the training, their learning and the change in behavior. This feedback is then used as assessment needs for making future training more effective.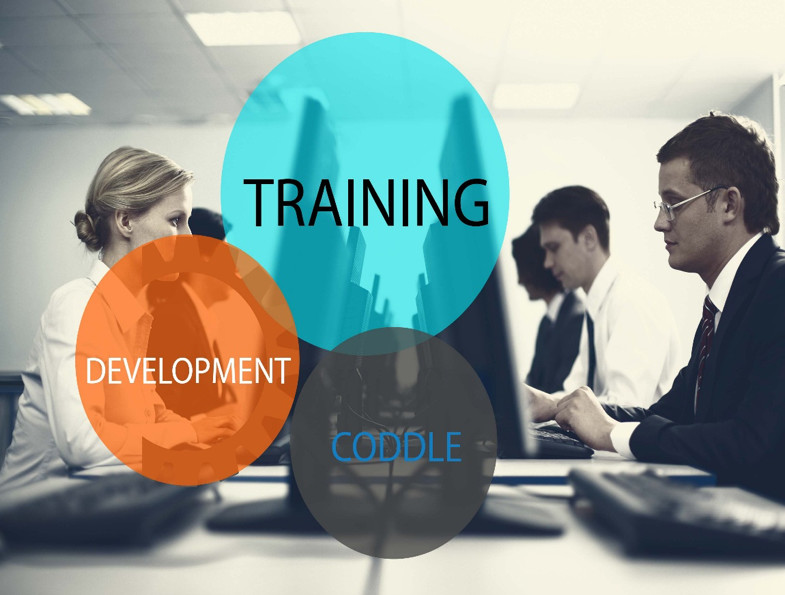 Coddle Technologies developed a solid organizational training and development environment for its employees including
Onboarding new hires.


Development plans for each employee, where we provide training to fill a skill or knowledge gap which provides opportunities to our employee's for their career growth by taking greater managerial and leadership responsibilities.


Addressing technology changes and providing the skills and knowledge needed to leverage new and emerging technologies.


Job mentoring providing an employee with an experienced employee to oversee his or her learning experience. The mentor advice and instruction, but is not performing the job with the employee as in on-the-job training.


Time for learning in the workplace is important for the success of an employee development program. This means giving employees time to learn without the interruptions of every-day activity.


Allow for a practice of new skills on the job. Learning does not end when the activity is over. Opportunities to use the knowledge and skills they have learned on the job will ensure that people retain what they have learned


By making employee training and development a priority we at Coddle Technologies benefits by
Increased efficiency and productivity
- By enhancing skills, knowledge and performance gaps, and arming our employees with new ideas, best practices and skills that they can put into practice provides them to make better decisions, and do their work smarter and more efficiently.
Increased employee satisfaction and retention
- With effective training programme, we are helping our employees feel more connected, valued, accountable, focused, and part of the team.
Helps new employees in the organization
- In case of new employees, training helps them a lot. This is because new employees may not be aware of the functioning of the organization and training helps them to gain knowledge and insight into the working of the company.
A culture of knowledge sharing and remain to be competitive
- To remain in fair competition in the market, we have skilled and trained employees who are familiar with both the changes in technology and the changing tastes of the consumers. Training employees in these new areas will help us to improve customer satisfaction.
It is our employees that are our greatest assets. In this increasingly competitive global marketplace, we at coddle technologies give the highest priority for Employee training and development to enhance their skill sets and grow in their professional career.